Gutter Services & Ice Dam Removal in SE Michigan
Protect Your Southeast Michigan Home and Spice up Your Curb Appeal
With our Michigan climate, heavy snow and hard rains can take their toll on your gutter system. Because of their importance to your property, you should make sure your gutters are clean, clear of debris, properly sloped, and functioning well.
Southeast Michigan homeowners trust us to install, maintain, and repair gutters for any type of home.
---
Comprehensive Gutter Services Based in Walled Lake, MI
Gutters channel the rain and snowmelt off your roof and away from your home's foundation. If precipitation were to simply flow off your roof at the eaves, the water would land quite near your foundation, possibly back-flowing into any cracks. Water will also erode the ground around the foundation. During the winter, any water in the foundation could freeze, expand, and turn cracks into breaks. By running the water through downspouts out and away from your foundation, you avoid these problems.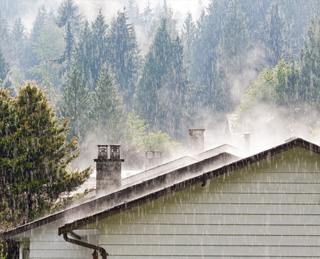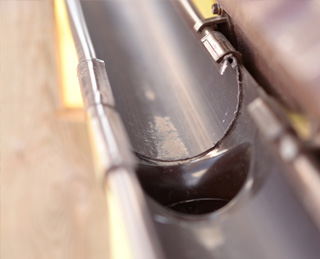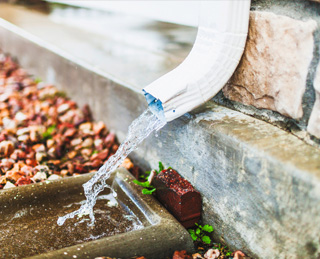 ---
Are Attractive Gutters Important, Too?
Absolutely! As an important element of your property, alluring gutters enhance your home's curb appeal and, thus, its value. Our seamless gutters come in many factory colors that you can choose from, either matching your existing color scheme or accentuating it. Plus, they can be custom painted to match your home's exterior.
Conversely, damaged gutters will detract from your home's beauty. If they're chipped, warped, dented, broken or rusted through, you should consider gutter repair or an all new gutter installation.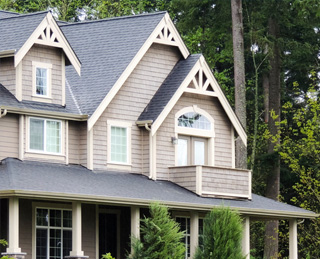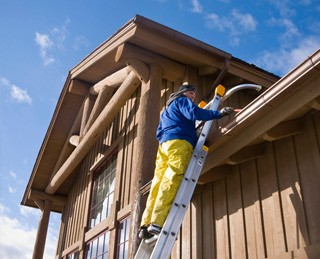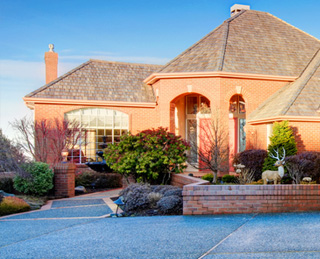 ---
Why Do Ice Dams Form in My Gutters?
Our brutal mid-west winters create the perfect conditions for ice damming at the eaves. During and after a snow, heat escaping from the home's interior into the attic causes the wood decking to warm-up enough to melt some of the snow. The water then runs to the gutters where it freezes. Freezing also starts at the eaves where they extend over the walls because that little wedge of attic has no heat.
The freezing water eventually fills the gutters or forms a horizontal ridge along the eaves and prevents the melt from reaching clear gutters and flowing down the spouts. If this continues, it's possible for the ice to back up under the shingles, breaking their seal. Over time, water under the shingles can penetrate past the underlayment and into the joints of the roof deck. Plus, ice and standing water add a lot of weight to your gutters and can eventually pull them off the fascia.
---
Fear Not, We Offer Ice Dam Removal Services!
While you can take some steps to prevent them yourself, once you've noticed ice damming happening, it's best to give our experts a call. Let us do the slippery-ladder climbing and careful walking on the roof for you - we're trained for it! But it is dangerous, so we recommend you help yourself only by using a snow rake to remove what snow you can while standing on solid ground.
---
Some Preventative Action Will Go a Long Way
Before winter strikes again, think about taking some long-term preventative action against ice dams. We can install heat cable to the eaves, gutters, and spouts to keep the water flowing. Also, when it's time to replace your roof, we can incorporate other anti-ice-damming strategies that won't be visible on your roof.
---
As full-service residential roofing contractors, we can lay out all your gutter and ice dam prevention options for a long-lasting, beautiful roofing system. Don't wait, if you need a trim or gutter repaired in Walled Lake, Commerce, Milford, West Bloomfield, Farmington Hills, Novi, or the surrounding areas, contact the team at Spencer Roofing today!