Southeast Michigan's Trusted Choice for Professional Roof Repairs & Replacement
---
Based in Walled Lake and serving Southeast Michigan since 1980, Spencer Roofing has been a trusted choice for thousands of home and business owners.
At Spencer Roofing, providing exceptional customer service is our #1 goal. We understand that your home is an important investment. Your concerns are first priority, and we will help you select the most appropriate roofing system to meet your needs.
We deliver great value by consistently offering the highest quality materials and workmanship at competitive prices. We stand behind our work, which is why over 70% of our business comes from referrals!
---
All Roofs Will Need to be Replaced Eventually
We are proud to have experienced, honest salespeople who have the integrity to NOT try to sell you a new roof unless you need it. If we think your roof really has a few years left, we tell you that! We are happy to give you an estimate anytime, but we don't use high pressure sales or take hours of your time, unless you want us to. Our basic estimates include good dimensional shingles, proper ventilation, and double the ice guard (waterproofing membrane) as required by the state of Michigan. While we can use ANY level of shingle you desire, we won't compromise our workmanship by lowering our standards. We have experienced crews who do top quality work that we proudly stand behind.
Celebrating Over 10 Years as a Trusted CertainTeed Roofing Contractor!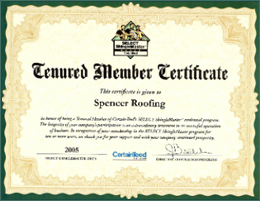 You can rest assured that when you choose Spencer Roofing your roofing materials will be covered by one of the most reputable manufacturers of shingles and decking. As a tenured CertainTeed Contractor, we're able to offer comprehensive warranties and competitive prices on the sustainable products homeowners trust.