Expert Roofing Companies in Commerce Township, MI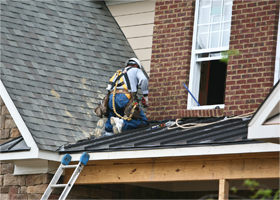 For over 35 years, Spencer Roofing has been providing full-service roof repair, replacement and maintenance solutions in the Commerce Township area. At Spencer Roofing, providing exceptional customer service is our #1 goal. We understand that your home is an important investment. Your concerns are first priority, and we will help you select the most appropriate roofing system to meet your needs.
Experienced and honest, our team has a great reputation as your "hometown roofer" that cares about your home and property like it's our own. Founded by David Spencer as a two-man team, Spencer Roofing grew and thrived in the 90's into a company doing major condominium complexes as well as homes of all sizes. We have come full-circle and now specialize in serving homeowners, who have always been the roots of our business.
Protecting Your Home is Our #1 Priority
At Spencer Roofing, we believe your roof is the most important part of your home. When it comes to protecting your house, your family and your belongings from the elements, nothing is more crucial than your roof. We also believe a well-constructed, properly ventilated, insulated, and maintained roof should last at least 20 years before complete replacement is necessary. We do our best to repair and maintain your roof if possible.
Commerce Township's Full-Service Residential Roofing Solutions
---



Roof Replacement
Worried your roof has problems? We're here to help! We are proud to have experienced, honest salespeople who have the integrity to NOT try to sell you a new roof unless you need it.
Our hardworking staff, competitive pricing, and satisfaction guarantee keeps our customers confident in their choice to work with our experienced team. We deliver great value by consistently offering the highest quality materials and workmanship at competitive prices. We stand behind our work, which is why over 70% of our business comes from referrals!
---



Roof Repair
Spencer Roofing handles roof repairs of all kinds. We will repair your roof whether we installed it or not and are experts in finding leaks.
Leaks of any kind
Blown off shingles/ chimney caps
Nail pops / caulking
Ice dam removal / repairs
Storm, tree, or "critter" damage
Repair or replacement of flashing, ridge vent, can vents, skylights, and soffit vents
---



Roof Cleaning & Maintenance
Spencer Roofing is proud to be the only Copper Cat® installer and distributor in Michigan. Copper Cat® is an innovative roof cleaning product that keeps your shingles clean by preventing the growth of mold and algae.
Invented by our founding father, David Spencer, these specially perforated copper strips can be added to the top of any sloped roof -- new or old. Copper Cat® works for the entire life of your roof and prevents streaking, making it easier to maintain your home's curb appeal.
Why do Michigan homeowners always choose Spencer Roofing?
I just want to say thank you to all of you for doing such great work on our roof. We are very happy with how everything has turned out. I must say your employee, Jimmie, is quite an asset to your company! His knowledge, patience and people skills was a pleasure to be around while dealing with the repairs on our home. Please let everyone know, especially him know how thankful we are. N.M.,White Lake, MI
I want to thank you for everything you did for us. A few years back you re-roofed our home with some beautiful CertainTeed shingles. You left our home very clean and your crew was very friendly and nice, too. When we recently had a problem with the shingles, you contacted CertainTeed who promptly stood behind their merchandise and refunded us some of our original costs. Again you re-roofed our home and this crew was super too. Having a home re-roofed is costly and can be stressful, but you guys certainly are winners and eased our concerns. Judy S. Commerce, MI
---
When it comes to protecting your home and your family, we've got you covered! Contact Spencer Roofing today by calling (248) 926-5800, or fill out our quick contact form. We'll call you back within 24 hours!